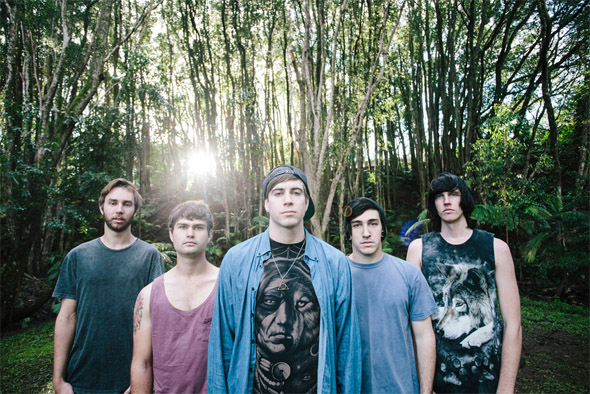 Boy oh boy, anyone remember this lot? Five white boys from Byron – but, get this, they play HEAVY stuff?? Man, where have I heard that one before? Anyways, I never cared for this band too much if I'm perfectly honest, but I remember the guy from this band being polite enough. They were also good with environmental philanthropy, so kudos to that. I haven't even looked at this article since I sent it off to my editor all those years ago, so let's see if it holds up.
***
Can one band make a difference? In Hearts' Wake believe so. Vocalist Jake Taylor introduces us to The Skydancer Project.
It's safe to say that Byron Bay quintet In Hearts' Wake have accomplished quite a bit in their relatively short lifespan as a band. They've toured both nationally and internationally, scoring slots with bands like Enter Shikari and iwrestledabearonce; and dropped their debut album, Divination, in August of 2012. As the band enters the next stage of their careers, coinciding with their most ambitious project to date, the band's lead singer Jake Taylor affirms that they have picked the exact right time.
"I feel that, until this year, working with UNFD and working with managers, we didn't have the resources at our fingertips; to be able to really delve into this kind of project like we are now," he says. "With the network that we have and the fanbase that is behind us, we felt like there was no other time than now to do this."
Welcome to The Skydancer Project, an inventive and creative take on a charity drive. "Skydancer," the band's new single, has been released on a pay-what-you-want basis. No matter how little or how much you put towards buying the song, all of its proceeds will go directly to three non-profit charities. The song deals with the preservation and heritage of indigenous cultures of the world; specifically relating to the stories of Native American-Indians who were iron-workers in New York City, who would walk the beams tens of storeys above the ground creating what would become the city's iconic skyscrapers.
"My mother isn't a Native American, she just grew up there," explains Taylor; the "there" alluded to referring to the Mohawk region of the state of New York. "I was affiliated with the land, and I've travelled it. That's how I became face to face and eye to eye with their culture and got to really be engaged with it. I was really taken – I found the stories and messages they had to share to be very inspiring."
"I've been a good ten times in my life in various blocks," he continues; explaining his connection and his fascination with the culture. "My first real memories would actually not be in the Mohawk region itself, but in New Mexico; when I got to visit a few of the reservations. It was like venturing into another world – we're talking mudhuts with ladders going between buildings. I would have been about five at the time, and back then you could actually visit the reservation. These days, the white man is a lot more cut off from those type of areas. It was quite an experience. New Mexico is a real hub for so many reservations and cultures that are all around there."
When it came to choosing the charities that In Hearts' Wake would work with on "Skydancer," Taylor did some extensive research and scratched substantially below the surface to find people and groups dedicating their entire lives to improving the ones of those less fortunate. The first group chosen was Red Dust Role Models, a group who devise and enact health programs within regional Aboriginal communities within Australia. Secondly, the band enlisted the Seventh Generation Fund, who describe their work as "dedicated to promoting and maintaining the uniqueness of Native peoples and the sovereignty of tribal Nations." Finally, proceeds will also go to the Hardcore Help Foundation, who work within poverty-stricken areas of Kenya providing medical assistance and much-needed supplies.
"I wanted to find three organisations that weren't glorified companies that were taking profits from donations to fund their business," says Taylor on the selection of the three charities. "Literally 100% of the profits that these organisations take in go to their causes – they put their money where their mouths are. We also wanted to reach in on a grassroots level, which meant not going to a charity like, say, World Vision. Not because they don't deserve it, but because we wanted to touch on the smaller organisations doing the rounds."
The importance that weighs on a project as big as Skydancer is something that is certainly not lost on Taylor – not only are three organisations involved, but the band's ever-expanding group of fans are being ushered into issues and ideas rarely spoken of or touched upon within the heavier spectrum of Australian music. Rather than be daunted by such a prospect, however, the vocalist exudes positivity and optimism. He completely realises the importance of Skydancer for his band, his audience and his affiliated charities.
"For the organisations that we're working with, this also opens their audience up to our audience," he says. "I say this with 100% confidence: Our audience are people that are willing to listen and wish to sing along. This is the kind of community that gets behind anything that needs its support, whether that's donations or crowdfunding or helping a band to tour. They are on board with the greater good – and with the great work that these organisations are doing, I feel like it's a win-win situation."
Exactly where the band will take The Skydancer Project from here is unclear even to those in the band itself. Ideas such as bringing volunteers from the charities out on tour, further benefit shows and even travelling to Indigenous communities to perform are all in circulation. For now, however, Taylor is focused solely on what is in front of him and the rest of In Hearts' Wake – the seemingly infinite possibilities of Skydancer.

"As a band, we always want to implement change," he says. "We'll take it as it comes, of course; this being the first proper launch into this world. I would definitely like to keep this going, though, and making it a part of what we do without making it too serious – we want it to be a fun and enjoyable experience for everyone involved." He concludes on a sentiment that is difficult to disagree upon: "There has to be positivity in it."